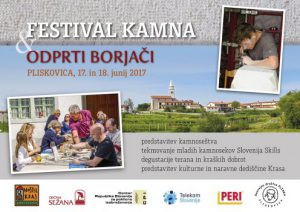 This year we have a merge two major events that we organise in Pliskovica. The main event of the Festival of the stone is a national competition for young stonemasons Heats for participation in European competition Euroskills. The main event of the day borjačev open the presentation on the life and work of the locals, as well as friendly and nearby villages.
Events will be held on Saturday and Sunday, 17th and 18th June. The merger events we chose because we believe that in this way we offer our visitors even more than we have so far can be offered at each event, because the event will be completed and upgraded. In addition to the competition of young masons and tastings in the open yard, which this year will open on Sunday, we are preparing yet varied accompanying program; craft market, a variety of workshops, presentations and demonstrations, tours, children's entertainment, cultural events, entertainment Saturday evening cultural program …
For more information and schedule will be announced shortly, until then, make a note of the date! 😉
We look forward to your company!