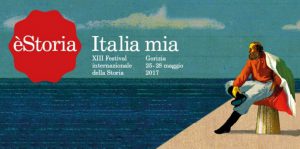 èStoria
Because it's a story
Bring the story to the center of the scene as a motive for dialogue and Gorizia as a meeting place: two visions that have found an opportunity to express themselves in a united and unique way through the International Festival of Gorizia History, born in 2005 under the name "La History in the Head ".
The Festival has grown over the years along with its mission: to bring the broadest possible and composite audience to the big themes of historiography. Exciting results and beyond the expectations of the years are the result of a formula that alongside the rigor and the high esteem of historians, journalists, witnesses and international scholars the ability to divulge, to fascinate and engage even those who do not work Forty thousand presences in the last editions.
Introduce the story in a multi-disciplinary way, crossing it to cinema, economics, literature, art history, theater, psychology and music, without sacrificing attention to the specifics of the territory: this is the vocation of the story. To propose a popular demonstration but of excellence means facing each year a new challenge that we want to continue to gather with courage and awareness, supported by the proximity of a proud city of its potentialities and the warmth of an increasingly eager public of stories and stories.

IsStory 093 Interview with John HemingwayThis is the Festival
The aim of the Story is to go in time, from ancient to modern times, to topics of great importance with a multidisciplinary approach. The Festival is made up of an ever-increasing number of appointments to compare the most authoritative voices that animate international cultural and historical research and debate. During the Festival days alternate debates, presentations of books, shows, exhibitions, projections and testimonies.
The Festival takes place at the end of May in the fascinating frame of the Public Gardens in the center of Gorizia and occasionally in other places in the city. There have been many events in the Festival's side events that have become an integral part, such as the press review of the Breakfast with History, the FriulAdria Prize, the Romance of History, the White Night of History, the Storiabus, the Antonio Sema Prize, Aperitifs with History.
Over the years, it has produced more than a thousand events and has attracted more than three hundred thousand participants, thousands of which have participated in the ItStoriabus itineraries.